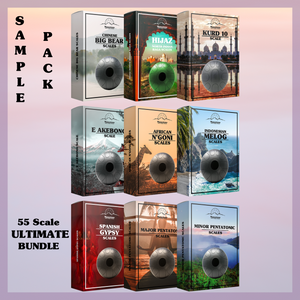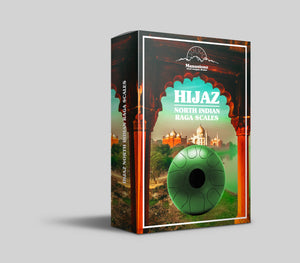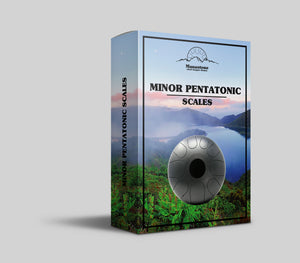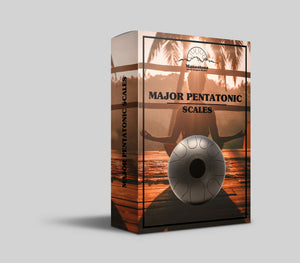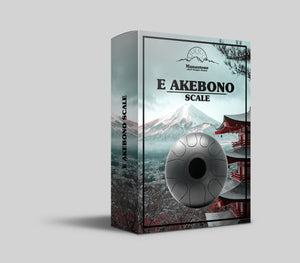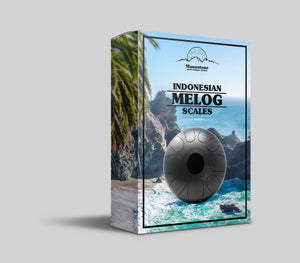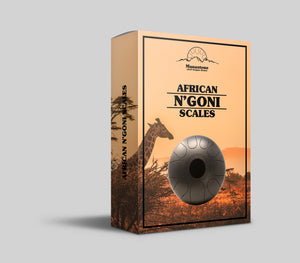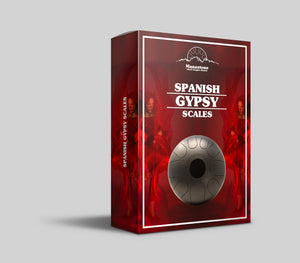 Product image 1

Product image 2

Product image 3

Product image 4

Product image 5

Product image 6

Product image 7

Product image 8

Product image 9

Product image 10

Ultimate Steel Tongue Drum Sample Pack for Music Producers 
Create beautiful melodies and splashy percussive landscapes with high quality samples recorded on the exquisite sounding Manastone steel tongue drums. 
Why this pack is awesome...
-Perfect for writing unique melodies, chords, and adding percussive flair 
-Works with many genres, versatile sound with many creative applications
-Easily write genius midi parts, or jam out on a drum pad machine
-Two different tones recorded for every scale, both the fingers and mallets 
-Recorded in 440 hz tuning at 24-bit, 44.1khz 
-Includes both .wav files and .asd files
-Includes all 55 9-Note scales offered by Manastone's Drum Craftsman
-Includes all Major and minor Pentatonic scales, 7 world music scales +more
Manastone has been a leading steel tongue drum maker in the United States for over a decade, creating instruments that capture the creative imagination of our customers and spark musical adventures around the world.
It would normally cost $16,500 to have all 55 individual Manastone drums made for your home studio.  Now with the Manastone Ultimate Sample Pack, you can have our entire collection at your creative finger tips for a fraction of the price. 
An Instrument for Pop, EDM, Reggae, Trap, Hip Hop, Future Bass, House, Lo-Fi, R&B, Indie Rock, Chillwave, Folk, Ambient, Film Score, Video Game Score  +more
9-Note Scales = Creative Flow
The steel tongue drum is incredible because you can so easily create beautiful music with the variety of defined 9-note scales we offer.  Each scale is going to have it's own unique flavor and mood, with infinite possibilities to explore.
Because each drum (scale) is tuned to be in perfect harmony with itself, you can arrange the notes in practically any order and create magic.  Spend less time trying to write cool melodies or get a creative idea started.  It's almost even easier to draw in the midi than it is to record the beat with a sample pad.  
Hands and Mallet Samples
There are many excellent sounds that can be created on the tongue drum depending on what you strike the tongue with.  For this collection we recorded the bright splashing finger sounds as well as the soft round mallet sounds. 
List of Scales
Pentatonic: F Major Pentatonic, F minor Pentatonic, E Major Pentatonic, E minor Pentatonic, Eb Major Pentatonic, Eb minor Pentatonic, D Major Pentatonic, D minor Pentatonic, C Major Pentatonic, C minor Pentatonic, B Major Pentatonic, B minor Pentatonic, Bb Major Pentatonic, Bb minor Pentatonic, A Major Pentatonic, A minor Pentatonic, Ab Major Pentatonic, Ab minor Pentatonic, G Major Pentatonic, G minor Pentatonic, Gb Major Pentatonic, Gb minor Pentatonic
Chines Big Bear: F Big Bear, E Big Bear, Eb Big Bear, D Big Bear

Peace: F Peace, E Peace, Eb Peace, D Peace
Mixotonic: F Mixotonic, E Mixotonic, Eb Mixotonic, D Mixotonic
African N'Goni: F N'Goni, E N'Goni, Eb N'Goni, D N'Goni
Indonesian Melog: F Melog, E Melog, Eb Melog, D Melog
Lyanna: F Lyanna, E Lyanna, Eb Lyanna, D Lyanna
Japanese E Akebono
Eb Hijaz North Indian Raga
Spanish Gypsy

D Kurd 10-Note
D Aeolian
D Super Pygmy
E Phrygian Dominant 
Try the Scales on the Virtual Drum
If you want to explore the many different varieties of scales included in this pack, you can play them all on our virtual drum.  
Activating the Product

Once you've placed the order you will receive an email with a download link containing the .zip file with all the samples.  No further activation code is required.  
HANDCRAFTED WITH LOVE IN A SMALL MOUNTAIN WORKSHOP IN CRESTONE, COLORADO
The most breathtaking sound. I'm in shock. The other drum I heard before did not have the beauty, workmanship, and tone as this does....This sings all by itself.. it's crazy... Thank you, Thank you, Thank you, and Thank you again!!!!!!!!!!!!!
Jan
Hello Noah, just got the drum today! Amazing, just amazing. I love it at the very first touch. Really well made and good tune. I'll recommend for sure to my musician community in Quebec City and everywhere I go play in this beautiful world!
Steve H.
I just got the drum, thank you so much, it's freaking sick. Keep up the great work! Thank you.
Matt
I got my F Big Bear yesterday and I can't put it down. It is absolutely beautiful. Family and friends all love it and I'm pretty sure they'll be potential customers in the near future. I played it in a public restaurant outside today and people couldn't believe what they were hearing. Many of them asked if it was electrically powered or amplified. I live in Miami, FL and I can't wait to show my city this drum. Thank you so much for your quality product. Well worth the money.
Chris
Dear Noah, Just wanted to say that I have received, and that this is a marvelous instrument with intense vibration coming out of it. I sincerely thank you for the job you have done. This drum is perfect and beautiful to look at. Thanks a lot again, I am seriously amazed by this little drum. It plays so intuitively too! Wow. Thanks!
simpledym
Noah.... I just revved up my double sided Manastone drum and I would like to thank you greatly for such an amazing production! Right out of the box I was amazed at the sound quality... I will definitely have many amazing experiences with this glorious musical art piece... Thank you again for everything and making one of the best products money can buy :) I truly hope for greatness and prosperity in your future :)
Derek